Update: I would like to make it clear that we will have a shower/tub combo in the second bathroom upstairs, so regardless of what goes on in the master, we will for sure have a tub on our main floor!
I've got myself a predicament. I can't decide what is the more appropriate choice for the master bathroom. In our
final house plans
we had decided to go with a shower/tub combo thinking we would have a deeper than standard soaking type tub with the shower inside.
In our old house we had a separate soaking tub and shower in the bathroom. The soaking tub was nice, but I only used it about 5 times in 4 years. Most of the time it just collected dust. I've considered not having the tub and just having a shower in our master because of this. However, my lovely mother tells me that if I ever have kids I will need to have my very own bath tub. Also, sometime in the future we would hope to also add an outdoor hot tub which would mean I would probably never use the master bath tub again. However, this wouldn't be for at least a few years.
I have gathered a few (realistic) examples of inspiration for both shower/bath combos, and walk-in showers...
A bathtub/shower combinations:
Source
Source
Source
Walk-in shower options:
Source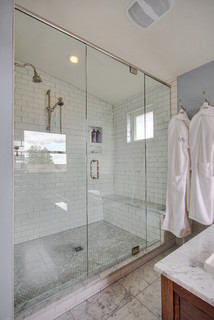 Source
Now I need to know what you all think (all one million of you readers). With the layout we have going for us, would you go with a shower tub/combo, or would you forgo the tub and just make a walk-in shower?
Follow my blog with Bloglovin